01 About the Specialization
Guangdong University of Foreign Studies has a long history of management disciplines, and so does the specialization of BBA in Business Administration with distinctive features and remarkable achievements. In 1982, BBA in Business Administration was established and was named a brand specialization and special specialization in Guangdong Province respectively in 2006 and 2010. In 2012, the first-level discipline to which the specialization belongs was named a preponderant key discipline in Guangdong Province. In 2014, it was named a piloting zone of talent training mode in Guangdong province. In the same year, based on the original classes, Business Administration (International Innovation Class) was added through the "2+2" or "3+2" cooperation mode. In 2020, the specialization was awarded as the ideology and political demonstration specialization of Guangdong University of Foreign Studies.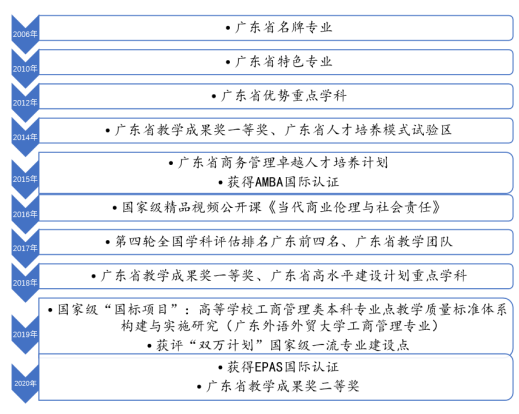 Based on the Guangdong-Hong Kong-Macao Bay Area, Business Administration specialization combines the "closed-loop" thinking and "bottom-line" thinking of international accreditation standards with the advantages of Guangdong University of Foreign Studies, strengthens key pedagogy, practices the core values of SMILE(social responsibility, mutual respect, integrity, learning by doing, and enthusiasm), builds the quality system of talent cultivation, and creates professional characteristics to cultivate international high-end business administration talents with global vision, social responsibility, sustainable development concept, and innovative entrepreneurship. The specialization will strive to build itself into a high-level business administration talent base in South China for cultivating international talents, a model professional site for collaborative cultivation of innovative talents, and a model area for teaching quality standard systems for the undergraduate major in business administration in South China.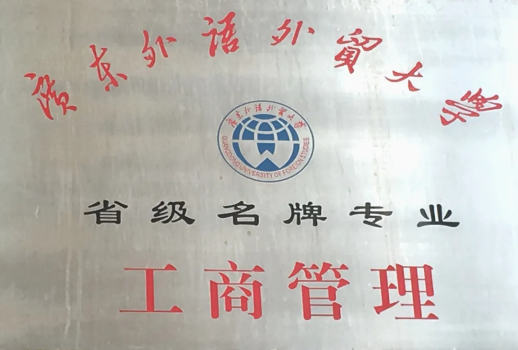 Provincial brand specialization
02 Talent Cultivation
Through continuous exploration, BBA in Business Administration has gradually formed a talent cultivation curriculum system with characteristics of Guangdong University of Foreign Studies, with general classes, experimental classes, and international innovation classes, which have their own unique cultivation model.
l International Innovation Classes (domestic and foreign joint talent cultivation model): Build a training program and all-English teaching system in line with international standards, and adopt the "2+2" undergraduate double degree and "3+1+1" undergraduate double degree models to provide students with an international and efficient learning platform. As of March 2021, 68 students have been studying for bachelor's or master's degrees at the University of Queensland in Australia and Arizona State University in the United States.
l Experimental classes (multi-form interdisciplinary talent cultivation model): The experimental classes emphasize the cultivation of multi-skill and practical abilities across specializations, disciplines and languages, focusing on training students' ability to innovate across borders and adapt to uncertain environments, while giving students the opportunity to study in multiple languages and inviting a number of professors from several well-known foreign universities to teach professional credit elective courses in person. As of March 2021, the specialization has successfully conducted a trial of class placement for three grades with good teaching results.
l General classes (general business administration talent cultivation model featuring innovation and entrepreneurship management and international investment management of enterprises): Based on the solid foundation of business administration knowledge, two professional features have been formed: innovation and entrepreneurship and investment management, which are reflected in the focus of the elective courses.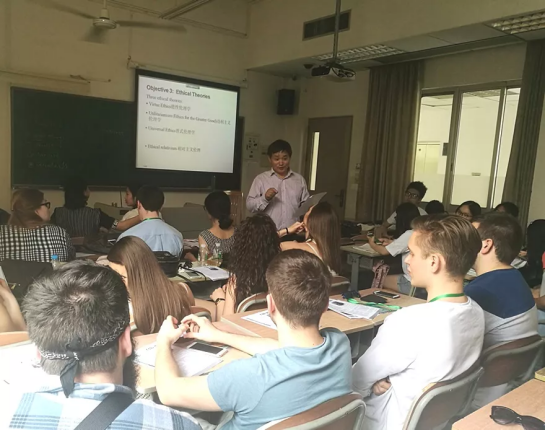 Professor Zhu Wenzhong teaches a mixed class for a visiting group from Coventry University
Core courses: The professional courses are mainly divided into four modules: innovation and entrepreneurship, investment management, international business management, and practical ability. The core courses mainly include Management, Microeconomics, Marketing, Human Resource Management, Logistics, Accounting, Economic Law, Statistics, Business Ethicsand Corporate Social Responsibility, Strategic Management, Organizational Behavior, Entrepreneurship Management, Investment Management, Operation Management, Project Management, and Management Research Methods.
Among them, Business Ethics and Social Responsibility has been approved as a national high-quality public video course. Business Ethics and Corporate Social Responsibility and Operation Management are first-class courses at the provincial level. Internationalization Practice of School Enterprises is a first-class course of social practice at Guangdong University of Foreign Studies. Project Management is a first-class offline course at Guangdong University of Foreign Studies.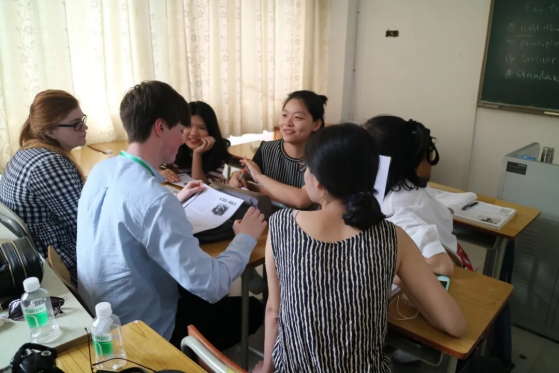 Class Discussion
A Foreign Teacher's Class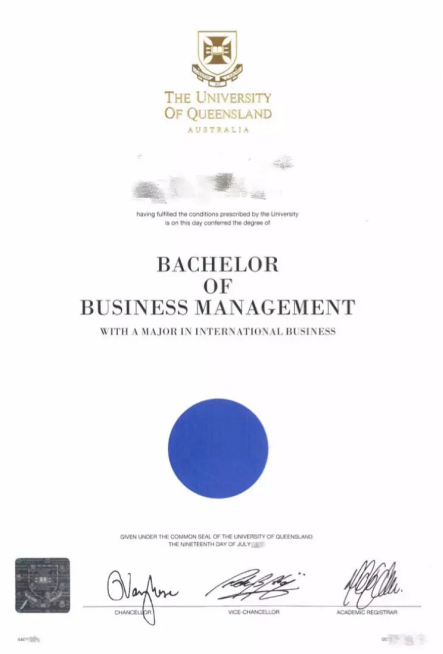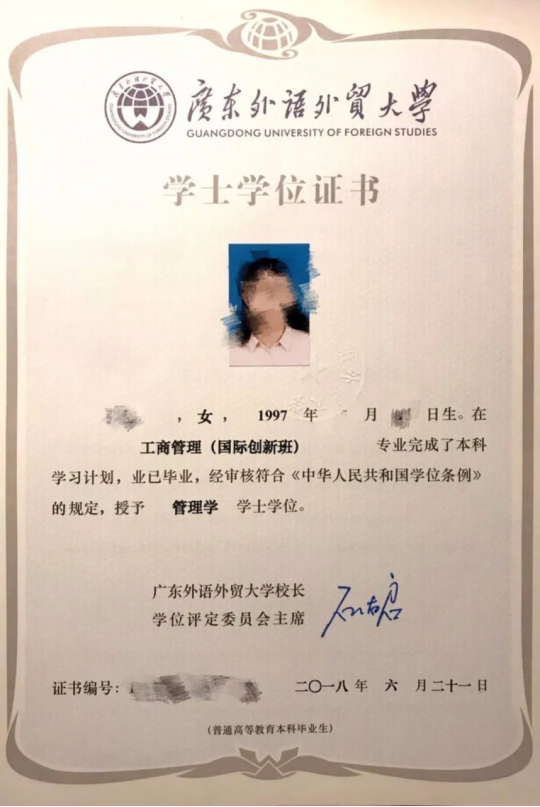 Dual Degree Certificate in Business Administration (International Innovation Class)
03 Faculty
The specialization is equipped with outstanding teachers. More than 85% of the faculty members have doctoral degrees, 80% have senior titles, and more than 70% have overseas study experience. The specialization has three Yunshan Young Scholars, two visiting professors from famous overseas universities, and overseas famous teachers. At the same time, highly educated teachers with rich practical experience from Guangdong University of Foreign Studies Entrepreneurship Institute, International Strategy Research Institute, Guangdong Business Research Institute, and African Research Institute are invited to teach some elective courses. The specialization has the Teaching Team of Business Administration Foundation Courses, a provincial-level excellent teaching team, the Teaching Team of Innovation and Entrepreneurship Series Courses, a school-level teaching team, the Teaching Team of Global Operation and Supply Chain Management Series Courses and an All-English Teaching Department.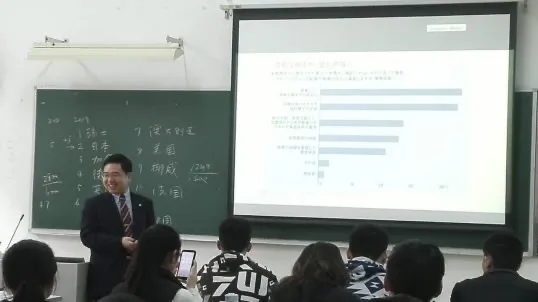 Professor Wang Zhiping, Associate Vice President of Sapporo University, Japan, teaches for BBA in Business Administration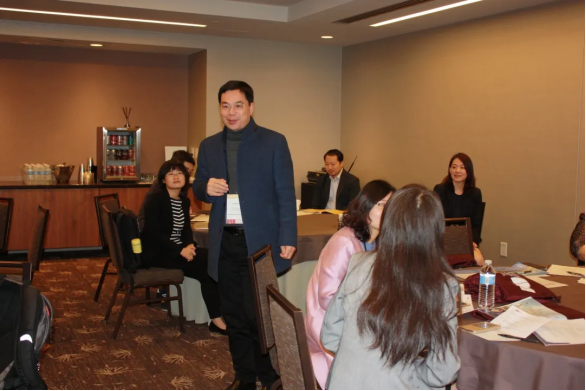 Associate Professor Huang Lei attends AEI International Curriculum Joint Development Workshop in the U.S.
04 Scientific Research Results
BBA in Business Administration has formed a key research direction with the core characteristics of enterprise internationalization, and has attained fruitful scientific research achievements. From 2016 to 2019, a total of 84 high-quality papers were published, including 34 first-class papers and 50 second-class papers. It has obtained 13 national projects (including 5 projects from the Ministry of Education), 24 provincial projects, 6 sub-provincial projects, 18 city-level projects, and 12 horizontal projects. Twelve decision consulting reports have been approved by leaders or authorities at the deputy provincial level or above. Several scientific achievements have been successfully patented. A total of 19 academic works has been published. Business Ethics and Social Responsibility was approved as a national quality video open course. "Construction and Practice of '4+2' Training Model for Global Business Talents" and "Construction and Practice of International Management Talents Training Model driven by international Certification" won the first and second prizes of Guangdong Provincial Education and Teaching achievements respectively.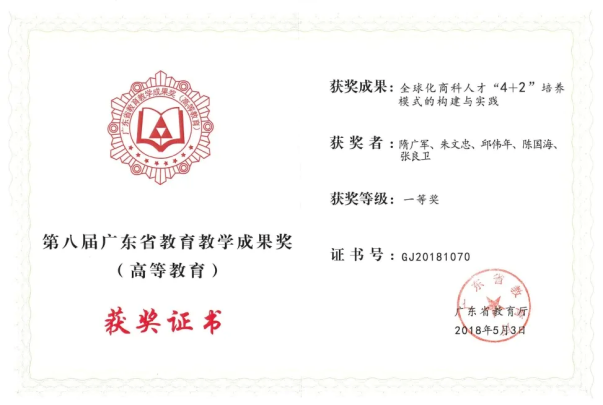 Teaching Achievement Award Certificate
Part of Teaching Materials Compiled by Teachers of BBA in Business Management
05 International Exchange
The specialization has established exchange and cooperation relationship with 39 foreign institutions, such as Arizona State University (ASU) Carey School of Business, University of California, Riverside (UCR), EM Grenoble (France), Stony Brook University (NY), University of Queensland (Australia), Lancaster University (UK), University of Santo Tomas (Chile), Northeast Asia Logistics Institute (NEALI) of Central University (Korea), University of Maryland (USA), and University of Wisconsin, Stoke (USA). It has also carried out cooperation programs like inviting the experts from the other side to teach, "2+2" or "3+1" undergraduate dual-degree training, "3+2" joint training of combined bachelor's-master's degrees, joint training of masters (MBA1+1 dual-degree program, MBA exchange program and international governance master's cooperation program), summer schools, overseas study tours, research cooperation, faculty exchange, student exchange, and joint academic conferences.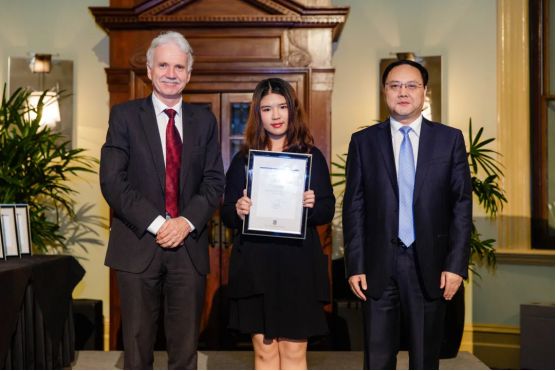 Luo Zhiwei, 2016 intake, is awarded a certificate during her study at the University of Queensland
06 Employment
The employment rate of the last three bathes of graduates of BBA in Business Administration is 100%. Graduates are mainly engaged in management in multinational companies, state-owned enterprises, foreign companies, financial and insurance companies, management consulting companies, and government agencies. The graduates employed in Guangdong, Hong Kong, Macao, and the Bay Area in the past three years accounted for 79.4%, 71.6%, and 70% respectively of the total number of graduates in that year. Graduates in 2019 who went abroad (overseas) for further study accounted for about 26% of the total number.
After a follow up survey on the training quality of graduates from 2018 to 2020, it is found that the average monthly income and career expectation match of BBA in Business Administration graduates have been increasing year by year, and the average monthly income of the 2020 undergraduate graduates of the School of Business is RMB 8,060.85. According to the survey, the employers are very satisfied with graduates of BBA in Business Management and speak highly ...